In my view an inspiring dance class creates an atmosphere where body, mind and sensations/imaginations get integrated. The artform dance has the wunderful capacity to merge physical (psychomotor), mental (cognitive) and emotional (affective) elements of human beings.

When we start to move, we fullfill a complex work of informative alternation between bodily energy and the outer world. So in dancing we focus on the awareness of our sensory-motor abilities according to which the body functions in the world rather than outside images.

We want to become aware of different body textures. We like to sharpen our sensations while we face exposure to movement. Mastering the ability to balance direction and letting go again defines gracefullness within the art.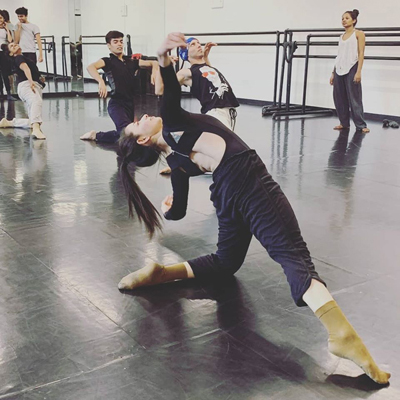 The warm-up sequences at the beginning focus to activate the center, to build inner pathways and softening the body's joints. Liquidity of the body becomes sensible, space in the joints becomes noticed and flow in movements visible.

Following the gentle warm-up, the class increases in complexity involving set movement material and combinations in and through different levels, expanding dynamicly the possibilities of moving and movement dynamics. Different principles like turns, shifting weight, jumps, falls, swings, are integrated and help to sharpen the awareness for different body textures and movement qualities.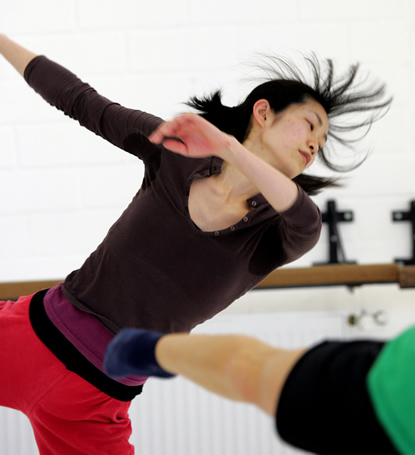 The last part of the class consists of a choreographic phrase offering space for individual movement exploration and musicality.
The final part of the class aims to establish higher spatial orientation, speed in energetic patterns as well as rythmical changes, movement complexity and coordination.
We aim to enhance our ability to balance body and mental effort, to master movements witout loosing sensual informations and to direct our mood in that, a qualitiy and sign of artistic intelligence.

The class combining different techniques with personal interpretation, sensitivity and knowledge. Being a result of personal experiences as well as investigation, the training is influenced by Modern Dance Techniques (Limon, Graham, Laban), Release Technique, Floor Work, Martial Arts/Capoeira and Improvisation Techniques and urban dance forms.