In my view a succesfull dance class creates an atmosphere where body, mind and sensations/imaginations get integrated. The artform Dance has the wunderful capacity to merge physical (psychomotor), mental (cognitive) and emotional (affective) elements of human beings. When we start to move or even dance, we fullfill a complex work of informative alternation between bodily energy and the outer world (e.g.physical lows like gravity).

We focus on the awareness of our sensory-motor abilities according to which the body functions in the world rather than an image. We become aware of different body textures. We sharpen our sensations while we face exposure to gravity/weight to promote movement. The game with gravity creates a new energtic source which promotes ease and freedom of movements. Mastering the ability to balance direction and letting go again defines gracefullness within the art.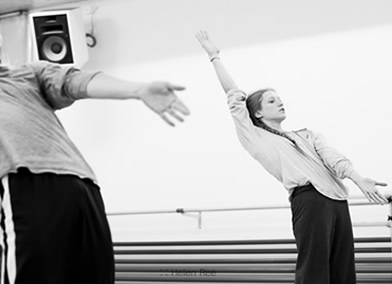 In a class we start with short sequences, using stretch as well as strength exercices combinded with exercices that awaken different sensations and the awareness for the outer and inner space. Liquidity of the body becomes sensible, space in the joints becomes noticed and flow in movements visible. Step by step further exercices integrate different principles like turns, shifting weight, jumps, falls, swings, opposition, succession, isolation.The awareness for different body textures, movement qualities and kinethic forces is sharpened.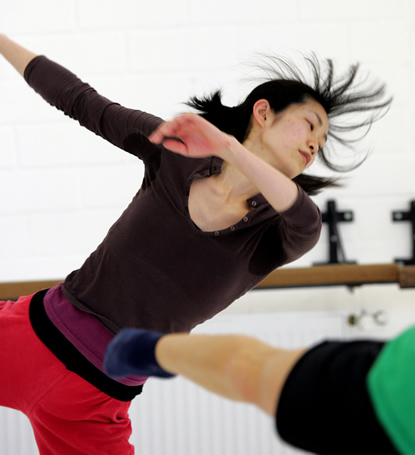 All that is teached with a focus to sensitize dancers to move without unnecessary effort and the risk of insusceptible overdoing. In dance we enhance our ability to balance bodily and mental effort, we master movement witout loosing sensual information as a complementary source. And we direct our mood which is a qualitiy of artistic intelligence.

My classes are inspired by a wide background of Dance Techniques, Martial Arts, Improvisation Methods and Body Work - such as contemporary dance (Floor Work, Release Technique), Martial Art (Capoeira), Modern Dance (Limon, Horton), Urban Dances (Boogaloo, HipHop, BBoy), Somatic practices (Feldenkrais Method, Laban Principles and BMC) and contact improvisation.